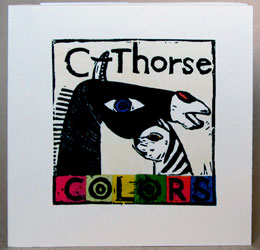 Cathorse Colors
By Mary Romanuck
Grasswood, Saskatchewan, Canada: Byopia Press, 2013. Edition of 30.
6 x 5.5"; 16 pages. Digitally reproduced linocut/chine-collé illustrations. Archival inkjet print on Legion Domestic Etching paper. Handsewn pamphlet binding with paper covers. Illustration on front cover with colophon on back cover. Signed and numbered by the artists.
Byopia Press: "Mary Romanuck's linocuts again delight the viewer in a second counting book from Byopia Press. Inspired by an Oaxacan carved cathorse creature, the illustrations are visually engaging as well as providing colors to count."
The original linocut and chine-collé illustrations were created by Romanuck. The book design and production were completed by Miller.
$35