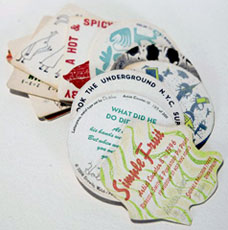 Artist Coasters
Time is No Object.
Produced by Purgatory Pie Press
New York: Purgatory Pie Press, 2010. Edition of 200.
4.5 x 4.5"; 12 coasters. Letterpress and relief printed. Shapes of individual coasters vary. In a hand-printed presentation box. Each coaster signed and numbered.
Purgatory Pie Press: "Purgatory Pie Press (New York, NY) consists of the husband and wife team Dikko Faust and Esther K. Smith. Faust hand-sets wood and metal type and experiments with letterpress as a printmaking medium. Smith edits, designs, and hand-sews books. Faust and Smith collaborate with other artists and writers to create artists books, postcards, coasters and a variety of hand printed ephemera."
Originally a subscription series, each coaster was printed in an edition of 200. Coaster #1 came in 1995, Coaster #12 in 2005. In 2010, 96 boxed sets were assembled, each containing all twelve coasters.
$96