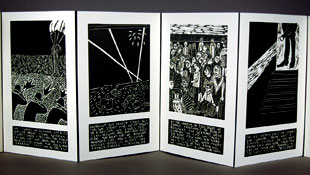 (Image from Escape)
The Holocaust Series set
Five books in a series recounting interviews with Holocaust survivors. The artist interviewed five Holocaust survivors and did 12 prints for each, telling their stories. All five are very different: four are Jews, one a young Dutch woman who worked for the Dutch underground.
Five stories, each in an edition of 25.
8.5 x 13.5". Accordion structure. Text and images in linocut. Bound in black covered boards.
Barbara Milman: "In 1994 I decided to interview Holocaust survivors and create a series of prints based on their stories. I then approached the San Francisco Holocaust Oral History Project, which graciously put me in touch with several survivors. Two of these individuals, Rita Kuhn (Berlin) and Gloria Lyon (Auschwitz), were the first of my interviewees. Subsequently, other subjects were suggested by friends and acquaintances, and I interviewed three more individuals: Peter Schrag (Escape), Alexander Groth (Warsaw), and Hielke Sheneman (Holland)....
"It is my hope that telling these stories today, one-half a century after they happened, will make it less likely that similar stories will have to be told in the future.".
$3000 Set of five stories (Last copy) click here for details of each of the stories.