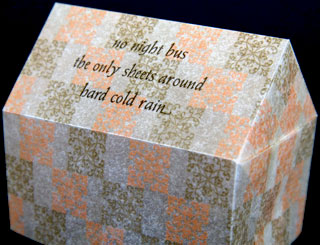 Sheets
By Dolores Connelly
Tacoma, Washington: Springtide Press, 2010. Edition of 30.
6 x 4.5 x 2.5"; four houses. Text handset and letterpress printed on handmade abaca paper. Folded and formed into house shapes. Housed in boxes made with Paper Studio's recycled cardboard box paper.
Colophon: "Sheets is a cycle of haiku by Dolores Connelly, each poem capturing a moment within a season. These haiku are excerpted with permission of the author from A Twisted Balance, One-Line Haiku and a Few Senryu, an unpublished collection of one hundred haiku dedicated to people forced from their homelands or houses."
Jessica Spring: "The ongoing cycle of homelessness throughout a year is reflected in the patterns and cycling colors printed on the interior of each paper house, muted but shining through translucent fiber."
no night bus
the only sheets around
hard cold rain

ten below tonight
Thai Cafe
denies street guy
their
crapper
Buddha decor
$224