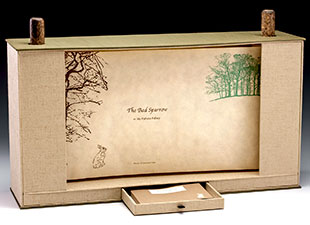 The Bad Sparrow
By Jessica C. White
Asheville, North Carolina: Heroes & Criminals Press, 2013. Edition of 30.
14" x 20" x 5", scroll is 25 feet fully extended. Letterpress printed from photopolymer plates and handset Palatino type on Okawara paper. Hand-colored with watercolor and walnut ink. Bound as a scroll on a cranking mechanism encased in a handmade box. Includes a digitally printed version of the scroll as a small hand-held book. Each one is signed and numbered by the artist.
Original story and illustrations by Jessica C. White. Printed and handmade by the artist as well.
Jessica White: "This crankie tells a story that takes place amongst animals congregating in a woodland clearing. They are gathering to wage war based on something the sparrow said. As the battle gets underway, some realize that they've forgotten what was said, but continue to fight on. Even after the sparrow is shot down by an archer, the machine of war is unstoppable."
YouTube of scroll operating
(SOLD)