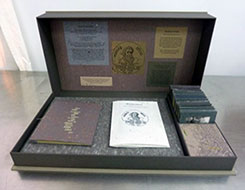 bread head fables
By Robbin Ami Silverberg with András Böröcz
Brooklyn, New York: Dobbin Mills, 1994/2013. Edition of 3.
20 x 11 x 3" multiple component book work in custom sectioned box. Components: four part folding backdrop (14.75 x 10.25 x 1" closed); 22 photographs in individual 2.75 x 3.5" (may vary by image) standing frames; "Mosha's Bakery" pamphlet (5.5 x 7.5"; 8 pages including exterior) in envelope; "Popieluszko News Collected" book (5.5 x 6.5" closed with 4 double page fold outs) in envelope. Signed and numbered by Silverberg.
From the exhibition "In the Playground of a Master Alchemist": "Bread Head Fables, which commemorates the life and subsequent martyrdom of Father Jerzy Popieluszko (1947-84), a Roman Catholic priest who lived in Poland. The priest was kidnapped in 1984 by the Polish police and later murdered. A monument to his memory was erected in Greenpoint's Popieluszko Square in 1990 but was vandalized by local Polish communists, who broke off its head. This act - and the ever-present pigeons feeding off bread in the square - spurred Böröcz to carve heads from bread. The sculptures were photographed in the square for the book, which was produced in an edition of three, with one proof. The work consists of a box containing a four-part backdrop and a series of 22 framed photographs of the sculptures and their setting. Looking at the book is a participatory experience; viewers are required to assemble a diorama that tells the story."
Dobbin Mills: "The book requires the viewer to assemble the diorama that defines the fable. It contains a four-part backdrop and a series of small framed photographs of bread head sculpture and of the Popieluscko Square in Greenpoint, Brooklyn. The square was named after the Polish priest who was murdered in 1984 for supporting the Solidarity movement. Seeing and smelling the bread that lay around for the pigeons in the nearby square was the catalyst for using bread as a sculptural material. The heads, which have been exhibited in gallery situations, were now returned to their place of origin in the making of the book.
"In 2013 Silverberg returned to Bread Head Fables, to design new boxes and make two smaller book editions to add to the project. News about Popieluscko is a pamphlet (foldout) concertina with citations taken from news reports during a ten year period. These articles have highlighted text — words many times repeated, such as murder, kidnap, death, etc. Mosha's Bread is a simple pamphlet where Silverberg collected the information about the now defunct bakery which provided the bread for Böröcz's sculpture." $2,500