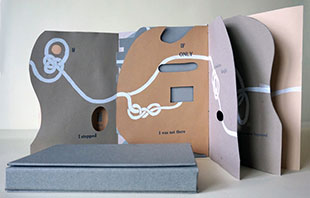 If Only
By Stephanie Copoulos-Selle
Waukesha, Wisconsin: Citron Press, [2016]. Edition of 35.
6.25 x 8.5"; 26 pages + colophon. Gatefold structure. Printed with screen prints and letterpress. Laid in four-flap box. Signed and numbered by the artist.
Stephanie Copoulos-Selle: "If Only explores an individual's emotional state after a gun shooting. The book suggests that there are many victims in America's gun culture."
Colophon: "The Constitution of the United States allows its citizens to bear arms. But, nowhere, in any society, is an individual allowed to kill people in schools, night clubs, restaurants, theaters, public malls, or places of worship. Buying automatic military assault guns can cause massive loss of life. Buying a gun for protection can end in killing family members. America's gun obsession results in many different types of victims."
(SOLD)