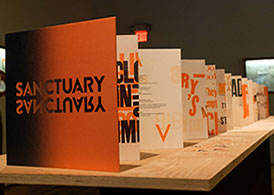 Sanctuary
ByVCUArts students
Richmond, Virginia: VCUArts Bowe House Press, [2015]. Edition of 50.
11.25 x 11"; 56 pages. Double-sided accordion. Designed and letterpress printed by students of the VCUArts Bowe House Press under the creative direction of Professor Jamie Mahoney — Adele Ball, Collin Brideau, Claire Corneal, Ben Evjen, Ashley Gladner, Mary Selph, Kyle Tellier, and Weijian Zhou. Digitally printed by Christian Gregory, VCUArts Painting + Printmaking. Numbered.
VCUArts Bowe House Press: "Sanctuary, a limited edition of 50 books, is the result of over two years of work by more than 50 writers, artists, and activists. The idea for making a codex was born in a writing class in the Richmond City Jail. Our codex is a blend of politics, pop culture, and art. It navigates the border between inside and outside, as prisoners, some still incarcerated, some now free, created the writing and the drawings. We believe that art has the potential to transform culture. This is our attempt. It certainly has transformed us. "
Colophon: "The idea for making a codex was born in a writing class in the Richmond City Jail after discussing Mayan and Incan codices and the contemporary political art book, Codex Expangliensis (by Gomez-Pena, Chagoy, and Rice). We were so impressed with the Codex Espangliensis that we decided to make a codex of our own."
$1,800