Deconstructing Elsie
Deconstructing Elsie
Deconstructing Elsie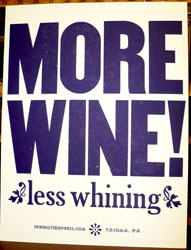 More Wine!
By Jessica Spring
Tacoma, Washington: Springtide Press, 2011. Open Edition.
10 x 13" single-sheet broadside. Printed letterpress with dark purple lettering [Mogen David?] on cream paper.
Jessica Spring: "This 10 x 13" print is handset with vintage wood type and letterpress printed in purple ink on 100% cotton Lettra, a reminder to spend less time whining and more time wining and dining."
A simple to-the-point broadside by Jessica Spring.
More Wine!
less whining
$ 15