Deconstructing Elsie
Deconstructing Elsie
Deconstructing Elsie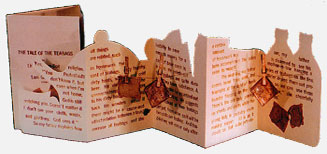 The Tale of the Teabags
By Lise Melhorn-Boe
North Bay, Canada: Transformer Press, 2001. Edition of 12.
5.5 x 8"; 10 pages. Double-sided accordion. Text rubber stamped onto handmade cotton paper. Accordion openings restricted by a thread, representing a clothesline from which hang "tea bags" simulated by color Xerox transfers. Laid in paper wrapper with ribbon closure. - See more at: http://vampandtramp.com/finepress/t/transformer.html#recipes
This is one father's theory of thrift and frugality. Or is it stinginess and tightfistedness? We can at least be thankful that the subject is teabags and not toilet paper.
Lise Melhorn-Boe: "This is a funny tale about the philosophy of the cost of teabags relative to the price of cold beer and hard work according to the father of the writer, Lori Gilbert. The handmade paper pages are rubber-stamped with photo-transfer teabags on a 'clothesline,' and are shaped at the top to represent elements of the story."
Text excerpt: "He points out that teabags are quite durable. They have substance; a lot of tea can be squeezed out of one little bag. He suggests that instead of two teabags per pot, from now on it will be two pots per teabag. And tea-drinking will occur only after a certain amount of housework has been accomplished. ..."
$250 (Last Copy)