Deconstructing Elsie
Deconstructing Elsie
Deconstructing Elsie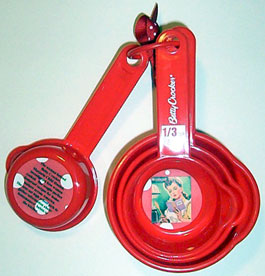 Measure 4 Measure
By Maryann Riker
Poem by Nancy Scott
Phillipsburg, New Jersey: Maryann Riker, 2012. Edition of 12.
A set of four nested plastic measuring cups (roughly 7.25 x 3.75 x 2.25"). Housed in 11.5 x 13.25" red drawstring bag with title label on front. Signed and numbered by the book artist.
Images of women in the Betty Crocker kitchen line the bottom of the measuring cups. On the bottom of each cup is a brief item about the Betty Crocker image. The colophon page includes a poem by Nancy Scott.
Maryann Riker: "In the effort for Betty Crocker to promise 'a perfect cake every time,' the real figure behind Ms. Crocker, Marjorie Child Husted, initiated a robust effort to learn how American women cooked in a scientific and analytical way. Her methods included sending young high school girls out to collect the data of how American women cooked and prepared food in their kitchens and then bringing it back into the test kitchens of General Mills to measure and test every recipe that would be included in the Betty Crocker cookbooks. Her research and methods paid off and made Betty Crocker the patron saint of the American kitchen by ensuring perfect results every time!"
$65 (Last Copy)