Deconstructing Elsie
Deconstructing Elsie
Deconstructing Elsie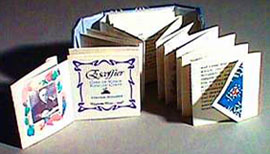 Escoffier - King of Chefs, Chef of Kings
By Etienne Brouillet
Bisbee, Arizona: 1998. Edition of 55.
Box/cover, 2.75 x 2.5", 34 page miniature in NSEW accordion structure. Printed on Mohawk paper in Bell, Vivace and Zapf types. Japanese hand printed paper on cover. Sterling silver closure. Bound at Waterleaf Mill & Bindery by Patrice Baldwin and staff. Signed and numbered.
This biography of the famous chef covers his early severe training, through the early years as a minor chef to his great success in Monte Carlo and London.
(SOLD)