Deconstructing Elsie
Deconstructing Elsie
Deconstructing Elsie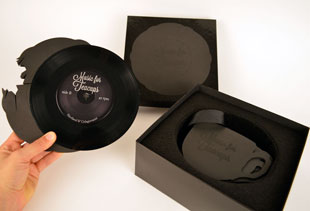 Music for Teacups
By Melissa Haviland and David Colagiovanni
Tallahassee, Florida: Small Craft Advisory Press, 2012. Edition of 50.
8 x 8 x 3" felt-lined lidded box containing book and record. Book (5 x 4.5"; 48 leaves plus boards): accordion of black French paper with lasercut shaped pages and laser-engraved text. Book extends to 25 feet. Record: 45 rpm in heavy stock slipcase. Shaped paper title on lid. Numbered on colophon.
Small Craft Advisory Press: "Haviland and Colagiovanni visited SCAP for three weeks in the springtime of 2012. Their collaborative project Music for Teacups is an extension of their previous collaborations with fine china and sound. The artists' book is a laser cut accordion book measuring 25 feet when open. Included with the book is a 7-inch vinyl record that the artists have composed from the sounds of breaking teacups."
The project was made possible by funding from the Arts and Humanities Program Enhancement Grant from the Council on Research and Creativity at Florida State University in Tallahassee, Florida; Baker and Ohio University Research Council Grants from Ohio University in Athens, Ohio; and support from the RENCI Center in Chapel Hill, North Carolina. The included EP was mastered at Thread Audio in Raleigh, North Carolina. $650