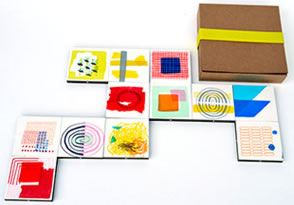 VVVVV
By Judy Rushin, Denise Bookwalter, Allison Milham, Michelle Ray, and AB Gorham
Tallahassee, Florida: Small Craft Advisory Press, 2015. Edition of 200.
6.5 x 6.5" four-flap cardboard box with colophon pastedown on interior base. Contains 12 double-sided 3 x 3" blocks, each bearing a letterpress printed image. Magnet inserts on each side. 1" wide yellow rubber band closure. Numbered on colophon.
Small Craft Advisory Press: "This modular piece features a collection of 12 letterpress prints adhered to magnetic blocks. The blocks are housed in a custom made four-flap cardboard box with accompanying pastedown."
VVVVV relates to Judy Rushin's participatory painting project Variance Invariance, in which Rushin created a system so that artworks could be assembled, dismantled, and shipped in small boxes.
Using 12 modules that can be attached, unattached, and reattached by a series of small embedded magnets, VVVVV allows the viewer/participant to rearrange the images/prints to form new artworks.
By employing viewer interaction, VVVVV advances the notion and the reality of participatory art.
$125