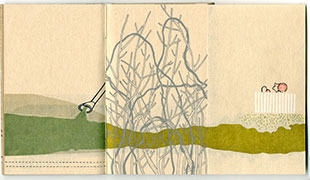 Channel & Flow
By Sarah McDermott Rosendale, New York: Women's Studio Workshop / Kidney Press, 2014. Edition of 50.
3.5 x 6"; 20 pages. Letterpress and screenprint on Shikoku paper. Printed from polymer plates with Avenir typeface. Modified long-stitch binding in covers of handmade paper from milkweed collected and retted at Ruocco Family Farm in Sandgate, Vermont, mixed with cotton and abaca. Signed and numbered on the colophon.
WSW: "Channel & Flow documents an attempt to follow a stream on its path through a dense suburban neighborhood. It uses the structure of the book's page turns and fold outs to represent how the stream has been contained and fragmented by the built environment."
Channel & Flow afterward: "Tripp's Run originates near I-66 in Fairfax county, Virginia, near Washington, DC. It runs above and below ground for approximately five miles before draining into Lake Barcroft and ultimately the Potomac River and the Chesapeake Bay.
"The surrounding area developed rapidly following World War II, and Tripp's Run was mostly channelized or piped underground to prevent seasonal flooding and consequent property damage, with the unfortunate effect of exacerbating flash floods and degrading the stream's ecological complexity. A combative relationship has emerged between human actors and water's inherent propensity to flow, spread, and cling to itself. It is debatable whether Tripp's Run can today be called a stream, or just a channel for stormwater events, maintained with groundwater inflow.
"Despite the changes of the last century, Tripp's Run persists in some form, a presence we experience like an echo, appearing and disappearing, perhaps most reliably visible as the negative space inside an environment that has been built under, over, and up to the edges."
(SOLD)