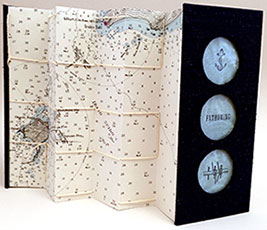 Fathoming
By Jessica Spring
Tacoma, Washington: Springtide Press, 2015. Edition of 7 variants.
2.75 x 6.5" closed, extends to 10 x 6.5". Modified Hedi Kyle flag book structure. Letterpress printed with handset Latin Condensed and Bernhard Gothic. Flags of vintage tobacco cards. Accordion spine exterior of original papers of 1945 Japanese maritime maps. Bound in cloth boards. Laid in cloth-covered custom clamshell box bound by Gabrielle Cooksey. Signed and numbered with sea map indication by Jessica Spring.
Jessica Spring: "Fathoming explores the origins of nautical terms, many familiar such as 'anchors aweigh' and others that have evolved into new usage, like 'bitter end.' Bound in an adaptation of Hedi Kyle's flag book structure, vintage tobacco cards depicting vessels sail across the book's interior while the back displays 1945 Japanese maritime maps. The front and back covers incorporate portholes which reveal prints of nautical terms and imagery. ..."
Each copy has a unique set of cards and a unique map (i.e. one of the seven seas).
$700 (Last 2 copies: Mediterranean and Gulf of Mexico)