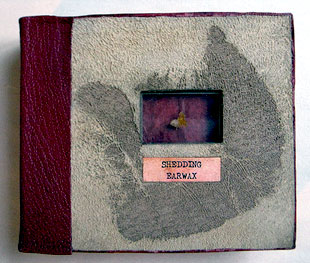 Shedding
By Alicia Bailey
Lake City, Colorado: Alicia Bailey, 2010. Edition of 21.
4.5 x 5 x 1.5"; 24 pages.
Alicia Bailey: "Construction - Pages are laser etched Arches cream rag paper, which has been laminated to Unryu paper, then bound in a board book structure. The page insets are laserprinted on mylar over archival inkjet images. Specimen labels laserprinted on text weight cotton paper that is then overpainted with methylcellulose. Book covers are laser etched deerhide, museum board, archival corrugated board, Japanese tissue, with goatskin leather spine. Inset into the cover is a glass mounted slide with selected specimen sandwiched in between the glass. Cover label is laserprinted on text weight cotton paper overpainted with acrylic.
"Concept - This book is about specimen collection and presentation, combined with journal type entries about the specimens presented (in this case, things shed by my body). Each day for 21 days I rescued something my body was shedding ( an eyelash off my cheek for example) or helped something detach from my body (a plucked hair). The specimen was scanned at a magnification of 500%, the scans then printed via inkjet and placed behind window cutouts, as in a photo album. The cover of each book holds one of the specimens, sandwiched in between glass, for a variable edition of 21 copies."
Specimens available include leg hair, blood drop, eyelash, ear wax.
$540