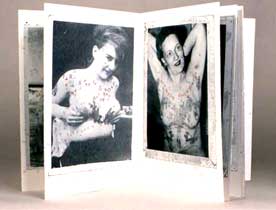 Cold Earth
By Alan Govenar
Stevens Point, Wisconsin: Arcadian Press, 1999-2002. Edition of 30.
14' x 18" x 11" open. An accordion fold book printed letterpress on Fabriano Uno paper. Letterpress-printed plates from photographs of tattooed women (breasts). The images were sold and traded as soft porm from the 1920s - 1950s. The images are overlaid with a poem by Govenar.
It is a comment on relationships, the indelible marks they leave on us, how the fervor of passion leaves us changed but in a totally different way than the experience itself. The unerotic nature of the tattooed women mocks the passion that soft porn makes mockery of. The poem seems to be the last stanza of another relationship over, another spadefull of cold earth heaped on our desires.
Caren Heft: "I see it as a continuation of my books about women. I am really interested in women and the choices they have been allowed and not allowed, how they have chosen to use their bodies ..."
A large relief print letter press accordion fold book with a provocative and poetic anthropological illumination of women's tatooed breasts.
$1,500