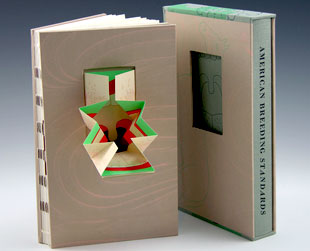 American Breeding Standards
By Ellen Knudson
Gainesville, Florida: Crooked Letter Press, 2013. Edition of 60.
5 x 8 x 1"; 72 pages. Images and text printed from photopolymer plates. Typefaces: Spectrum, Lutetia, and Spartan Bold Condensed. Line drawing form collaged images of horses and female models from fashion magazines. Letterpress printed on Zerkall Book. Cave Paper is also used (tapes and title flag). Hahnemühle Bugra is used as cover paper, lining, and end sheets/paste down. Exposed spine sewn on handmade paper tapes and attached to paste paper covered boards. The cover has hinged pop-up that folds out. The interior of the book contains three foldout pages. Slipcased.
This witty, pointed, and devastatingly clever book skewers our "post-feminist and enlightened" sense of superiority about how far we've come in climbing beyond the stereotypes of the ideal woman. There is more work to be done.
Ellen Knudson: "American Breeding Standards explores the systemized rules about what comprises a good and bad horse, a good or bad woman – and the steps one might take to achieve the breed standard."
Text excerpted from American Horses and Horse Breeding (John Dimon, 1895) and Canine Breeding Standards of the German Shepherd (American Kennel Club, 2012). Other text and illustrations by the artist.
$475