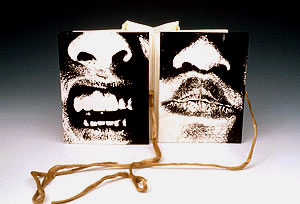 Altered States
By Irene Chan
Washington, DC: Ch'An Press, 1996. Edition of 25.
4.5 x 5.5" closed; 4.5 x 24 x 5.5" open. Black & white images. Three-dimensional carousel structure with five openings. Raffia tie closure.
The starkness of the black and white presentation and the close-up images of body parts and openings underscore the impersonal nature of the interactions and contribute to the vaguely pornographic feel of the work.
Irene Chan says simply: "Instruments and my body parts interacting."
$295