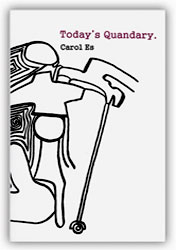 Today's Quandary
By Carol Es
Los Angeles: Carol Es, 2013. Edition of 50.
8.5 x 5.5"; 28 pages. Each includes an original colored pencil and ink drawing on the front page. Bound in 100% cotton Crane Lettra paper covers. Printed by Bill Roberts at Bottle of Smoke Press. Pamphlet stitch binding. Signed and numbered by the artist.
Carol Es: "If there is such a thing as an accidental publication, this would be it! Now, that might sound confusing, and trust me – it is. However, before completing Houses, and while working on a new book of drawings … something odd happened along the way: the sudden channeling of writing aloud thoughts, ideas, memories, and realizations while these artist's books were in the process of being created. What then materialized was something of a diary-entry-meets-art-philosophy-manifesto of 28 black and white pages, and an honest look into the private inspiration of one silly little artist – ...
"It's mostly writing, but there are eight illustrations scattered amongst the pages that show past and upcoming content of some of the artist's books created between 2008-2014."
$40