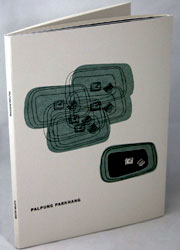 Palpung Parkhang
By Clifton Meador
Chicago: Clifton Meador, 2012. Open edition.
6 x 9"; 52 pages. Stitch bound. Offset printed with a letterpress printed dust jacket.
Cliff Meador: "This is one of three books that is based on work I did in Ganze Autonomous Prefecture. I was there as part of an interdisciplinary research team, documenting traditional Tibetan book culture, and much of the information we collected has never been published. I spent part of this summer printing these books that explore ideas of iteration and repetition that are connected to the practice of traditional Tibetan book production."
Palpung Parkhang is the second in this series of three (Kandze Village Bodhisattva: Nine Iterations is the first). This book uses similar structure, a letterpress printed dust jacket with flaps that hold a book of photographs on one side and a book of text (in this case, 5 sets of notes, like footnotes) on the other. Meador took the photographs during his visit to Palpung Monastery in Palpung Parkhang, Tibet. In most spreads there is a number (starting with 1 up to 20). These numbers correspond, or seem to correspond, to the notes (yes, each of the 5 sets of notes contains 20 notes) in the text section that tell a version of the experience. So using the same photographs and the 5 sets of notes, this book takes us on five different trips, each the same, each different.
$30