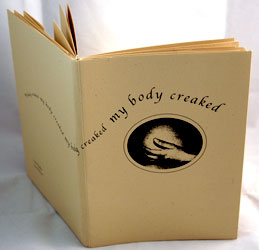 My Body Creaked
By Carol Hughes
artwork and book design by Lin Charlston
Ludlow, Shropshire, UK: Charlston Books, 2005. Edition of 250.
6 x 8.25"; 44 pages. Multi-section codex, hand stitched and folded. Printed offset litho on Eco Metaphor 150gsm paper. In matching dust wrapper.
Lin Charlston: "An inter-subjective experience of natural childbirth.
"My Body Creaked is one of five works shown at the Faction Exhibition Sense:Absence in 2005.
"My approach to the theme Sense:Absence was provoked by Thomas Nagel's essay 'What is it Like to be a Bat', in which he discusses the subjective nature of experience. One of the works was an interactive sensory device in which participants were invited to imagine their arm as a bat wing.
"My Body Creaked presents Carol Hughes' inter-subjective experiences of natural childbirth in South America which affected her almost as profoundly as her own experiences of childbirth. I have distorted her photographs in a way that accentuates the stark intimacy of heightened awareness while suggesting the incompleteness of a memory. The images are secreted in folds of the book."
$45