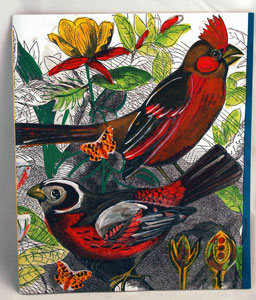 Eight Clones
By Rebecca Goodale
Portland, Maine: Rebecca Goodale, 2013. Numbered open edition.
11.25 x 9.25"; 24 pages. Print on demand. Single-section paperback book. Handsewn pamphlet stitched binding. Signed and numbered by the artist.
A bit of fanciful autobiography accompanied by Goodale's charming illustrations.
Colophon: "The artist conceived this book as a work of autobiographical science fiction coupled with ink drawings and collage on paper."
Introduction: "They are all the same age, 26, with an education similar to mine. They are all in excellent health. They know me better than anyone else. I recognize them as younger, less experienced versions of myself. They all have my name."
$40