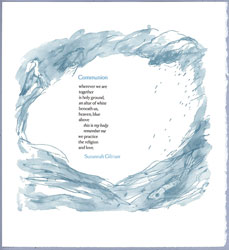 Communion
By Suzannah Gilman
Tuscaloosa, Alabama: Red Hydra Press, 2013. Edition of 50.
11 x 12" single sheet. Broadside designed and letterpress printed deploying SangBleu types by Steve Miller. Presented in two blues and a black on white Rives BFK. Drawing by Jane Marshall. Signed by poet.
A poem by Florida poet Suzannah Gilman, encircled by a pen-and-ink drawing by Jane Marshall.
Steve Miller: "The first time I read the poem I was struck by the sense of words circling back on themselves – a very loving and quiet poem. I challenged Jane Marshall to circle around the poem with a wash of imagery. She sat at our kitchen island and drew all day. I chose the very first drawing she did for its raw qualities, and was pleased with how it translated through letterpress in a silvered blue."
$35