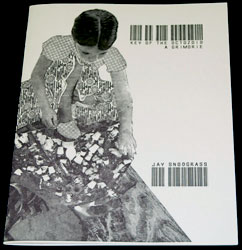 Key of the Octozoid
A Grimoire
By Jay Snodgrass and FSU Advanced Print Students
Tallahassee, Florida: Small Craft Advisory Press, 2012. Edition of 50.
8.5 x 11"; 10 pages. Photocopied pages with letterpress printed covers. Pamphlet stitch bound.
Jay Snodgrass is the Resident Poet at Small Craft Advisory Press and the author of two books of poetry.
A grimoire is a book of magic, typically a book of instructions for spells, amulets, or talismen.
Small Craft Advisory Press: "This collaborative book was produced in an advanced printmaking class at Florida State University, taught by Denise Bookwalter. Students worked with SCAP resident poet, Jay Snodgrass, and created illustrations for his poem using various printing techniques and collage work. Students were Jorge Becerra, Kaitlin Derespino, Michelle Lafrance, Emma Massaglia, Austin Phelps, Dan Schmahl, Elisabeth Sclawy-Adelma and Brian Starke."
$10