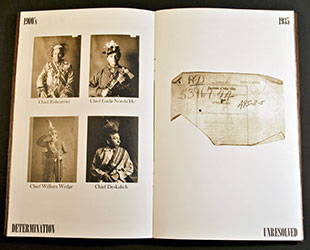 Cayuga Nation
By Jenna Rodriguez Chicago, Illinois: Journal of Artists' Books, 2015.
5.5 x 9"; 10 pages. Variation of a dos-a-dos binding. Pamphlet with saddle stitch binding (stapled). Printed on a Heidelberg GTO 52 on Mohawk Superfine paper. Designed, offset printed, and published by Jenna Rodriguez during her summer residency with the Journal of Artist Books (JAB) at Columbia College Chicago in the Center for Book and Paper Arts.
Jenna Rodriguez: "Three weeks after I moved to the shores of Cayuga Lake, the local gas station was barricaded with trucks, police, and members of the local Cayuga Tribe. This event inspired me to explore the long history of the Cayuga Nation and the events that lead to the recent conflict within the tribe itself. Depending on which cover you open first you receive a different story. One side of the book tells the 'Now' story (current issues) and the other side tells the 'Then' story (history) of the tribe.
"In 1779, the U.S. military destroyed the nations homes and crops forcing them off their land. Ten years ago, Cayuga Nation returned to their homeland after being displaced across the U.S. and Canada. The land claim is situated on the north end of Cayuga Lake, which is part of the Finger Lakes Region in Central New York. The nation is currently split between two factions and for two months one faction hijacked their gas station. This book tells the story from multiple perspectives. The central theme of this book consists of my photographs, newspaper articles, letters from the local councilman, historical research, and conversations with the Cayugas and Mercenaries. Moving to this area has made me aware of the continuous struggle Native Americans encounter. Through this book I hope to bring attention to their plight."
(SOLD)