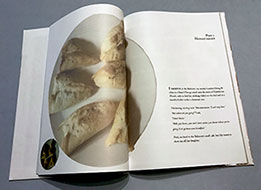 (w)hole
A Life in Parts
By Miriam Schaer Brooklyn, New York: Miriam Schaer, 2017. Open edition.
8.25 x 10.75"; 52 pages. Digital offset. Bound in white glossy covers with illustration. Signed by the artist.
Miriam Schaer: "A companion book to The Presence of Their Absence: Society's Prejudice Against Women Without Children, (w)hole: A Life in Parts is Miriam Schaer's exploration her mother Ida's decline into dementia before death. The project began when Ida saw a photograph of Schaer's garments embroidered with negative comments about childless women on a hyper realistic doll. Ida, a former maternity nurse and lover of all babies, reacted strongly to the photograph. So the artist bought her mother a realistic doll, and began to photograph Ida, the doll (whom Ida named Tabitha), and herself with her mother and the doll. (w)hole: A Life in Parts uses Schaer's original writing, photography, and collage."
The original photographs of Ida with the dolls were transformed into a portfolio of images and text - (W)hole Transformations. The portfolio was then used as the background images for (w)hole: a life in parts.
Miriam Schaer : "Once the photos were complete, I transformed them. I stapled, sewed, laced, pierced, and peeled the prints. I cut them apart, wove them back together, and mounted the resulting photo-collages in old frames from local thrift shops. The framed photos remind me of the small family photo clusters with which Ida once adorned her home. She lived in that home for 50 years in Buffalo, New York, before leaving for a room in Belmont Village, the assisted living center in the Chicagoland exurbs, where she lived."
$60