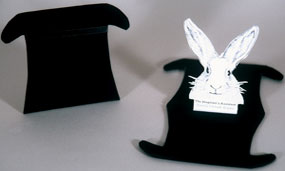 The Magician's Assistant
By Pamela S. Wood
Tempe, Arizona: Artboard Ink, Ltd / Rarehare Creations, 2003.
Edition of 12.
3.5 x 4.5"closed, opens to 6 .5". Shaped like a magician's black hat. Original drawing, velour paper, silk ribbon. Boards and drawing handcut.
Art as magic.
Pam Wood: "Continuing with my love for rabbits, I wanted to create in a book the essence of a rabbit in a hat." Joe D'Ambrosio, review: "It is safe to say that this work … is the ultimate expression of a true artist's book. There is no text — it is purely a visual experience. And yet, while looking at this work, the visual 'speaks' volumes....
"The piece itself is a two-dimensional hat, obviously a magician's stovepipe, or opera, hat, exquisitely shaped in black felt with a black satin band. There are no directions on the further course of action by the viewer, but it is fairly obvious that the part of the hat originally intended for one's noggin can be opened, and the other end of the hat is a practical hinge in order to perform that operation. At first try it is somewhat difficult to pry the hat open because the velcro mechanism which keeps it closed is so deftly constructed. But, with a little extra effort it can be done.
"The fact that it requires effort to open the hat is an intimidating factor because one does not want to damage the beautifully made object by being too clumsy and overbearing; the mind and mood of the viewer has now been preset (intimidation / submission) for what is to come...."
$250