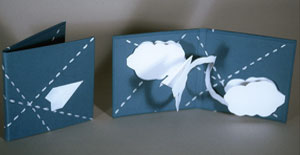 Paper Dream
By Pamela S. Wood
Tempe, Arizona: Artboard Ink, Ltd / Rarehare Creations, 2004.
Edition of 12.
4 x 3.75" pop-up construction using commercial handmade papers and embroidery floss. The embroidery resembles the contrails from airplanes. Two clouds open up to reveal the story. Ribbon tie.
A sheet of paper who thinks he [sic] can fly. With the help of the artist, he does.
Pamela Wood: "As with flight, a dream takes passion to become reality. You gotta believe! "
$150