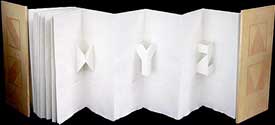 The White Alphabet
By Ron King
Guilford, England: Circle Press, 1984. Edition of 150.
5.25 x 11.5" with colophon letter-press in 14 pt Gill Light – 56 pp – 29 x 14 cm in canvas box and slip-case. With title in gilt capital letters across spine.
A double-sided concertina alphabet book, without text, cut onto RWS hand-made paper and bound between inlaid wood boards.
"The elegant simplicity of this work comes about through sophisticated and refined paper engineering that takes subtle heed of texture and tone. Through thoughtful variations on the theme of white paper, King explores the idea of emergent form in its avatar of a sculptured alphabet: this, while three-dimensional, shares with its self-frame a smooth (i.e., worked on), texture that contrasts with the rougher matte of the fuller page background and, ultimately, the deckled - 'unfinished' - lower edge. Two wood covers, sensuous to the touch, call to mind the creation of paper from wood, and are designed, front and back, with forms of positive and negative relationships. Since alphabets ordinarily contrast in color with paper in order for words to be read, through an intriguing irony, the title opens the mind toward appreciating other kinds of contrasts." [Beyond the Text: Artists' Books from the Collection of Robert J. Ruben by Yvonne Korshak and Robert J. Ruben]
$2,400 (Last Copy)