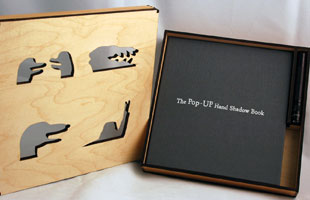 Pop-Up Hand Shadow Book
By Nora Robertson
Avon, Colorado: Helen Hiebert Studio, 2012. Edition of 50.
6.75 x 7.375" closed, extends to 6.175 x 18 x 8"; 4 pages. Letterpress printed and laser-cut paper pages. Book board, book cloth, cherry-and-plywood laser-cut box. Hand-drawn graphite images. Gate fold with fold-out pop-up panels. Housed in a cherry and plywood box with cut-outs of each animal featured in the book. Includes a mini-flashlight. Signed and numbered by the poet and artist. Colophon card laid in. Signed and number by artist and poet.
Helen Hiebert: "The Pop-Up Hand Shadow Book features four illustrated animal hand shadows in a theatrical book structure. The animals are brought to life as the viewer plays with a mini flashlight (packaged with the book), casting shadows onto panels behind the pop-ups in the book. A verse about each animal, by the poet appears on each page."
$375