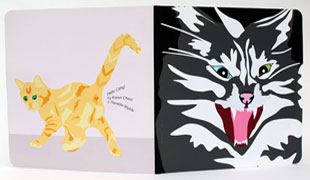 Hello Catty!
By Nanette Wylde and Karen Chew
Redwood City, California: Hunger Button Books, 2010. Edition of 28.
9 x 9"; 10 pages (five two-page spreads). Movable book with pull tabs, wheels, spinner, windows, flaps, fold-out page. Includes attached objects: three pin-on buttons "Hello Catty! Push Your Buttons" in bag; "Organic Catnip" seed packet; and "Hello Catty!" heart charm. Printed on Epson 3800 with Epson UltraChrome pigment-based inks on Epson papers. Bound in illustrated paper wraps.
Nanette Wylde: "Hello Catty! is a light-hearted, yet poignant play on catty behaviors couched by a feline perspective. Designed as a movable board book, it consists of five two-page spreads. Each spread contains user interactive elements: wheels, pop-ups, pulls, spinners, windows, flaps, a game and ephemera.
"Hello Catty! came about after Karen and Nanette shared an experience of a person being unnecessarily (and blatantly) mean to them. This was followed by conversations on meanness: types, reasons, stereotypes … and has resulted in this book. We had fun."
$300