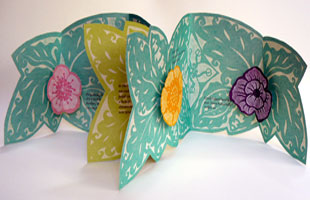 Erotica Botanica
By Catherine Michaelis
Shelton, Washington: May Day Press, 2010. Edition of 40.
4.5 x 6.5"; 16 pages. Hand-set type, letterpress printed over relief-printed stencils on Domestic Etching. Folded accordion style and pamphlet stitched. Enclosed in a wrapper.
Catherine Michaelis: "Enter the sensual Erotica Botanica through an unfolding caress of its leaf shaped pages. Delicate flowers with enticing organs float up from the folds above a bed of leaves and seed pods. Erotic verse, written by flowers and pollinators, inspires the viewer to contemplate the sexual desire of plants."
The trade edition is comprised of the accordion fold with text and images laid in a complementary wrapper. The deluxe edition, described below, has a different wrapper with supporting top and bottom flaps and five pop-ups, (one delicately concealed in the top flap).
Catherine Michaelis: "There are two blue flaps inside that hold the book in at the top and bottom.... All the imagery for the book was printed from stencils I designed and cut. Except [one] flower which Billy [Michaelis's husband] made. I think this is the only stencil that was cut once. All the other stencils for the book were cut at least twice, and some (including the leaf pages) three times! There are four different flowers and they pop-up from the folds."
SOLD