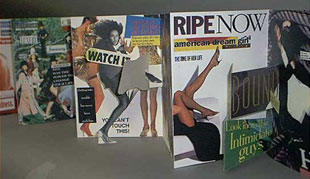 Sleeping Beauty:
Finding That Special Someone When You're Not the Aggressive Type
By Lise Melhorn-Boe
North Bay, Canada: Transformer Press, 2000. Edition of 8.
7.75 x 10.5" accordion fold with ten pages. Each double page with a moveable / pop-up structure. Created using text and images from popular magazines and Canon Laser colour copied on 55-lb. Pro-21 Eco-source paper.
No spinning wheels in this up-dated version of the well known story — it's a stiletto heel that puts this Beauty to sleep. Images and text are collaged from fashion magazines.
$400 (Last Copy)