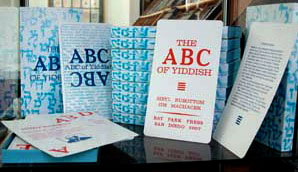 The ABC of Yiddish
By Sibyl Rubottom & Jim Machacek
San Diego, California: Bay Park Press, 2006. Edition of 40.
4 x 7"; 26 cards. Housed in a slide box that opens to reveal the twenty-six 4 x 7" cards. Printed on Arches cream rag paper using 14 pt. Bodoni for the text and various sizes of Clarendon. Cards and box wrapper letterpress printed on a Universal I Vandercook press. Original drawings by Anthony Lukens. Signed and numbered by artists.
Each letter-card contains an English transliteration of a Yiddish word (sometimes words, S is particularly crowded) with derivation, pronunciation key, definition, and picture. This book was designed especially for the Gotthelf Art Gallery at the San Diego Center for Jewish Culture as part of the show entitled Book Art: Celebrating the Books of Bay Park Press, Dec 2006.
From the Introduction: "Yiddish is a rich, descriptive language, probably derived from a form of German heard by Jewish settlers along the Rhineland over a thousand years ago. Yiddish in not Hebrew but does use the Hebrew alphabet. About 15 to 20 percent of Yiddish vocabulary is Hebrew, 70 percent is German, and the rest Polish, Russian, Romanian, and English. It borrowed words from whatever country Jewish people lived in. This linguistic mélange spread and flourished in Eastern Europe, becoming the native tongue of the Ashkenazim."
$200 (SOLD)