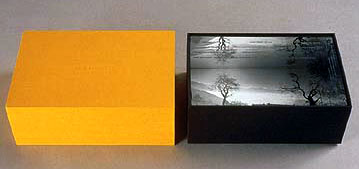 Le 6 Avril 1944
Text and photography by Edward Hillel
Book design by Jacques Fournier
1999. Edition of 44.
6.25 x 9.75 x 3.75" box covered in Japanese paper Kuro and Sumie-Yamabuki. Photograph deposited at the bottom of the box and reflecting itself on the interior walls of the box. Title blind embossed on lid.
The box opens to reveal a photograph of hillside in France. The silver reflective sides are etched with the names of the forty-four Jewish children hiding in the village of Izieu (France) who were arrested and deported to the death camps of Auschwitz on April 6, 1944.
From colophon: "In their names and for the love, hope, and innocence they inspire, we wage our resistance."
$600 (sold)