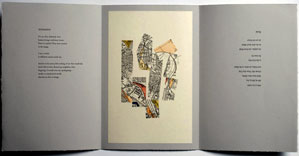 Dan Pagis: Six Poems
Translated from Hebrew to English by Stephen Mitchell
Huntington Woods, Michigan: Land Marks Press, 2007.Edition of 15.
7.75 x 11.5 x 1"; 8 tri-fold sheets. Lithographs printed on waran-shi paper and then hand colored with gouache. Types: Centaur, David, and Optima. Printed letterpress from photopolymer plates on Magnani grey paper. Laid into letter-fold cloth-covered portfolio. Text in English and Hebrew.
Colophon: "In the fall of 2006, Lynne Avadenka was an artist in residence at the Oberpfalzer Kunstlerhaus in Schwandorf, Germany. While there, she created a series of collages, from maps included in a 1910 Baedeker guide to southern Germany. These collages are composed of train lines, symbols of modern efficiency and wartime inevitability."
Gabriel Sanders, The Jewish Daily Forward, December 4, 2007: "In the fall of 2006, Michigan-based artist Lynne Avadenka went to the Bavarian town of Schwandorf for a six-week artists' residency program. Never having been to Germany, she picked up a couple of books she thought might be useful in helping her prepare: a Baedeker guide to southern Germany, some secondhand German-English dictionaries, and a Hebrew German grammar she had found on a discard table at her local Jewish library. Little did she know how centrally the books would come to figure in the work she was about to undertake.
"Once in Germany, as she struggled to come to terms with the country's history, language, and terrain, Avadenka found herself taking apart the books she'd brought and using the pages as the raw material for three distinct series of prints. Taken together, she later wrote, the body of work formed a rumination on 'memory and mapping, preservation, destruction and reconstruction....'
"Alongside these figures, Avadenka placed bilingual versions of the work of Israeli poet and concentration camp survivor Dan Pagis (1930-1986). 'The stark, allusive forms seemed a good counterpoint to Pagis's stark and allusive poetry,' said Avadenka."
Introduction: "The remarkable life of Dan Pagis began in Radatzch, Bukovina in 1930; he died in Jerusalem in 1986. During World War II, when he was in his early teens, Pagis was imprisoned in a concentration camp in the Ukraine. He escaped in 1944, and two years later made his way to a kibbutz in pre-state Israel, where he later became a teacher. Pagis received a PhD at the Hebrew University of Jerusalem, and taught medieval Hebrew literature there, becoming an expert in the field. Through his powerfully lean and direct poetry, Dan Pagis is one of the writers and visionaries who shaped the modern, living Hebrew language."
$2,500 (Last numbered copy)