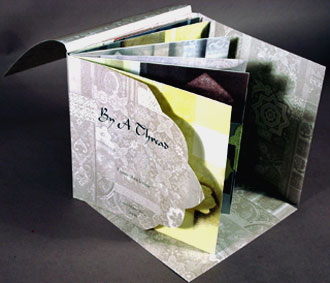 By a Thread
By Lynne Avadenka
2006. Edition of 300.
8 x 8" page size. 8 x 2.75" tab page. Double sided accordion, 11 panels. Laid in a letter-fold paper wrapper. Printed offset in full color and die-cut on 80# dulcet cover. Legend and Centaur types used on the text pages. Image pages created from original drawings that combine gouache, powdered graphite and letterpress printing. Produced at the Borowsky Center for Publication Arts, at The University of the Arts in Philadelphia, Pennsylvania.
Land Marks Press: "Imagine a conversation between two extraordinary women, separated by a thousand years, yet connected by acts of bravery and more than coincidental commonalities. Imagine that this dialogue transcends time, and links Queen Esther, from the Jewish story of Purim, and Scheherazade, the Muslim woman who told stories for a thousand an one nights. This is the inspiration for Lynne Avadenka's new artist's book.
"The book structure reinforces the never-ending, always mutable nature of storytelling, and the narrative is printed on tabbed pages that weave their way through the evocative imagery printed on the accompanying page spreads."
$350