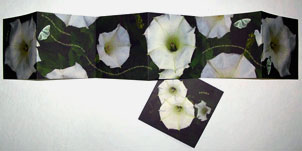 Datura
By Cathryn Miller
Saskatchewan, Canada: Byopia Press, 2007. Edition of 24.
6 x 6" closed, extends to 36"; 6 pages. Accordion fold. Typeset in Caflisch Script Pro. Giclée printed on Legion Domestic Etching and laid into a giclée-printed paper envelope folder.
Cathryn Miller: "My work often reflects my life long interest in the natural world. The individual books are usually small, conceived as a personal connection between maker and viewer/reader.They can be held in the hand, and are thus more intimate than a large folio."
Datura celebrates this night bloomer, opening as "the evening light fades," perfuming the air until the "moths are giddy."
$40