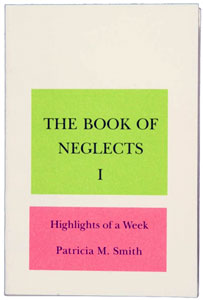 The Book of Neglects
By Patricia M. Smith
Borowsky Center for Publication Arts, 1996. Edition of 350.
3 x 4.5" which opens to 24" double-sided. Offset printed. An accordion book printed on one sheet of paper folded to create seven spreads, one for every day of the week. The things and people the author / artist neglects are her job, art, home , friends, husband, and children - each to varying degrees on different days. Color-coded pop-ups show the range from "not neglected" at all to "completely neglected."
Humorous in its straightforward presentation of the truth of a busy life.
$30 (SOLD)