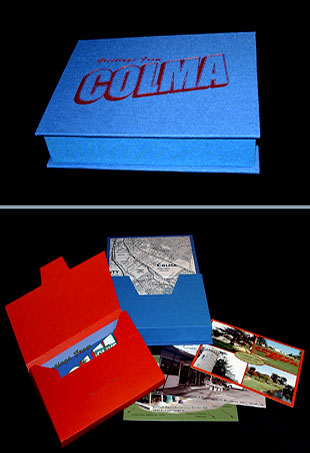 Greetings from Colma
By Lex Thompson
2004. Edition of 150.
4 x 6", 34 postcards in red paper wrap case with slip-in tab closure. Printed on a four color press by Nomad Printing. Standard in red paper wrappers. Deluxe edition, in blue cloth covered box with map of Colma lining interior.
Since 1902 it has been illegal to bury or cremate bodies in San Francisco. This is done in flourishing Colma, situated strategically just south of the city limits. Sandwiched between immaculately landscaped cemeteries are flower shops and headstone suppliers necessary to complete the economic community of the dead, a peculiar amalgam of life, death, ethnicity, religion, consumerism, and tourism thanks to the gods of zoning.
This set of over forty postcards features photographs of the mortuaries, florists, and monument retailers. The postcards pose as mementos for tourists as well as sales pitches for future visitors and residents.
The places are real. Thompson's presentation allows and even calls for both critique and celebration. Satire? Documentation? Yes. Yes.
Standard: $ 45