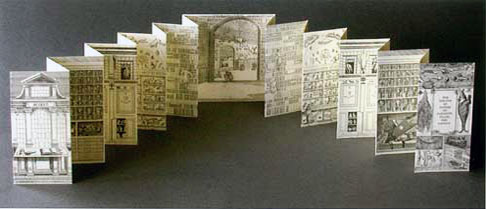 The Theater of Nature or Curiosity Filled the Cabinet
By Angela Lorenz
Bologna, Italy: 2002. Trade Edition of 5000.
6.5 x 7" accordion structure. Pop-up museum housed in a magic lantern box. Images reproduced in a facsimile version of the original deluxe edition.
Angela Lorenz: "This work was inspired by the remnants of the most famous and extensive collection of artifacts, mostly natural, in 16th c. Europe. They were amassed by Ulisse Aldrovandi (1522-1605), the first professor of natural history ever appointed in Italy, at the University of Bologna. A tiny fraction of Aldrovandi's 18,000 items are still on display in today's Aldrovandi Museum at the University of Bologna, but a few of the strangest pieces caused the artist to investigate the collection. Oddities, such as a frog with a lizard's tail plastered on and fishes' teeth inserted into the frog's mouth, led to research that included not just Aldrovandi and his thousands of tempera paintings but the History of Museums in general. What was originally going to be a work about the fakes created for museums and natural history collections gave way to the broader topic of museology from Hellenistic Greece to the Enlightenment. "The Trade Edition of "The Theater of Nature" is a mechanical reproduction of a limited series of handmade books created in two slightly different versions. Both the original series and the Trade Edition contain the same imagery and text. In the first handmade series of nine copies, each book has nine original watercolors of completely different subjects based on manuscripts commissioned either by Aldrovandi or by Manfredo Settala (1600-1680) for their collections of curiosities. Settala's museum was in Milan, but his manuscripts are housed today in the Biblioteca Estense of Modena, not far from Bologna. The artist spent a year making this cycle of 81 unique miniature paintings which were glued and sewn into the nine books. The Trade Edition more closely resembles the second handmade series, known as the Magic Lantern Edition. It contains the same black and white copperplate etchings as the first version, and looks identical when set upright and extended to make the "theater", but the cover is entirely different. It is really a case as opposed to a cover. When the book is removed from it, the case may be set up to form a magic lantern, a sort of early slide projector from the 17th century.
"The historical research for The Theater of Nature, both iconographic and textual, was boiled down to a 900-word rhyming poem that accompanies the color illustrations. The color images and text are hidden from view, however, when the book is viewed in the theater format. In this position, the 11 copper-plate etchings form a collection of curiosities or wunderkammer, receding into the distance. The etchings, hand-drawn and printed by the artist, are based on the images of six early museums in Europe, put together here to form one fictitious museum. Lorenz adapted the images from engravings commissioned by the founders of these early collections to depict their museum at the front of a published catalog. In most cases, these engravings and the lists of museum contents are all that is left of the early collections. The etchings demonstrate a goal of early museum founders: to shock the visitor into a state of wonder by trying to make the entire collection visible at once, through both open architecture and crowded displays on every surface. "
$39.95